Our buddhist packages will fulfill the basic needs of a funeral as listed below. Tentage setup can either be primarily yellow or white, depending on the family's preferences. Our basic package are designed to cover all essentials of a buddhist funeral, so that you do not have to divert your attention away from your family or guests.
From $5288
(3 Days)
Buddhist funerals in Singapore are regularly conducted with the chanting of Buddhist Monks. A Buddhist funeral has a focus on simplicity, with its core in the chanting of scriptures allowing our loved ones to pass on peacefully or to a better life. A Buddhist funeral package consists of the typical chanting services for our loved one as well as the fundamental logistics and services as listed below.
Our Buddhist funeral service also incorporates some basic cultural funeral practices such as the offering of vegetarian food and burning of incense sticks. The burning of paper house is an optional choice for families who wish to do so and is charged separately from the funeral package listed below. You may give us a call anytime for quotations or advice on our Buddhist funeral services and the different options available to you.
Buddhist Funeral Services Package Details
Immediate response upon contact
– Funeral director will be present to discuss details of funeral
– Staff will be present with equipment to transport loved one from place of death to embalming center
Embalming and Makeup Services
– Your loved one will be embalmed and bathed in our care.
– Professionals will ensure proper makeup and dressing of your loved one.
Provision of Casket Items
– A furnished half glass, Buddhist themed casket will be provided
– Lotus Blanket, pillow and pearl for the comfort of your loved one
– Afterlife Blanket for the safety and well wishes for your loved one's passing
Logistics and Prayers During Wake
– 3 Prayer Services by Revered Monks:
- During encoffining of loved one
- Final night of the wake (The night before funeral day)
- Funeral Day prayers at the wake and location of cremation/burial
– Staff will be present to guide the family through the rites and rituals
– Tablet written by revered monk with loved one's information
– Lamp to light the entrance of carpark leading to location of wake
Provision of Offerings During Wake
Floral Arrangements
- Flower frame setup for loved one's photo
- Table top floral arrangement for memorial altar
- Table top floral arrangement for Buddha's altar
- Food and Fruits
Vegetarian offerings to be provided for all 3 prayer sessions above
- Fruit offerings for Buddha
- Fruit offerings for loved one
Set up of HDB Void Deck
Memorial Hall Setup
- 3-sided tentage setup with carpet
- Choice of canvas or curtain setup
- Choice of Yellow or White themed setup
- Buddhist Themed Backdrop
- Memorial altar with offerings (Listed in "Provision of Offerings")
- Incense Brazier for memorial altar
Altar for Buddha
- Statue of Buddha
- Incense Brazier for Buddha
- Offerings for Buddha (Listed in "Provision of Offerings")
Tentage Logistics
- 15 Square Tables and 10 Round Tables
- 100 Chairs
- 6 Fans to be placed around the venue
Reception Table
- Safe Box for collection of condolence donations
- Guest book to record visitation of guests
- Printed notice containing information of funeral for guests
Services provided on Funeral Day
– Glass Hearse for transportation of loved one to cremation/burial site
– Pallbearers will be present to guide family and guests through the funeral rites
– Tokens of appreciation for guests
– 45 seater coach to ferry guests for 2 trips:
- From location of wake to place of burial/cremation
- From place of burial/cremation back to location of wake or location desired by family
– Floral water for cleansing of guests and family
Other Services Included
- Guidance of ash collection after funeral
- Assistance of booking of cremation time slo
Buddhist Funerals and Customs
Buddhists hold the belief that Karma, the accumulation of one's actions, has a significant impact on the process of reincarnation. The quality and quantity of Karma acquired throughout a person's lifetime determine the nature of their next rebirth. When a Buddhist passes away, their body is traditionally bathed and dressed in preparation for the funeral. This ceremony is meant to be a simple, dignified, and solemn expression of grief.
A Buddhist funeral in Singapore typically involves specific procedures led by chanting monks. The purpose of these rituals is to ease the deceased's transition into the next life. More than just a display of filial piety or a final act of love, the proper execution of funeral activities allows the bereaved family to find peace and closure. It is believed that supporting the deceased in their afterlife journey is essential through this send-off ceremony. By adhering to these practices, Buddhists seek to honor their departed loved ones and provide them with a meaningful farewell as they embark on their new journey beyond this life.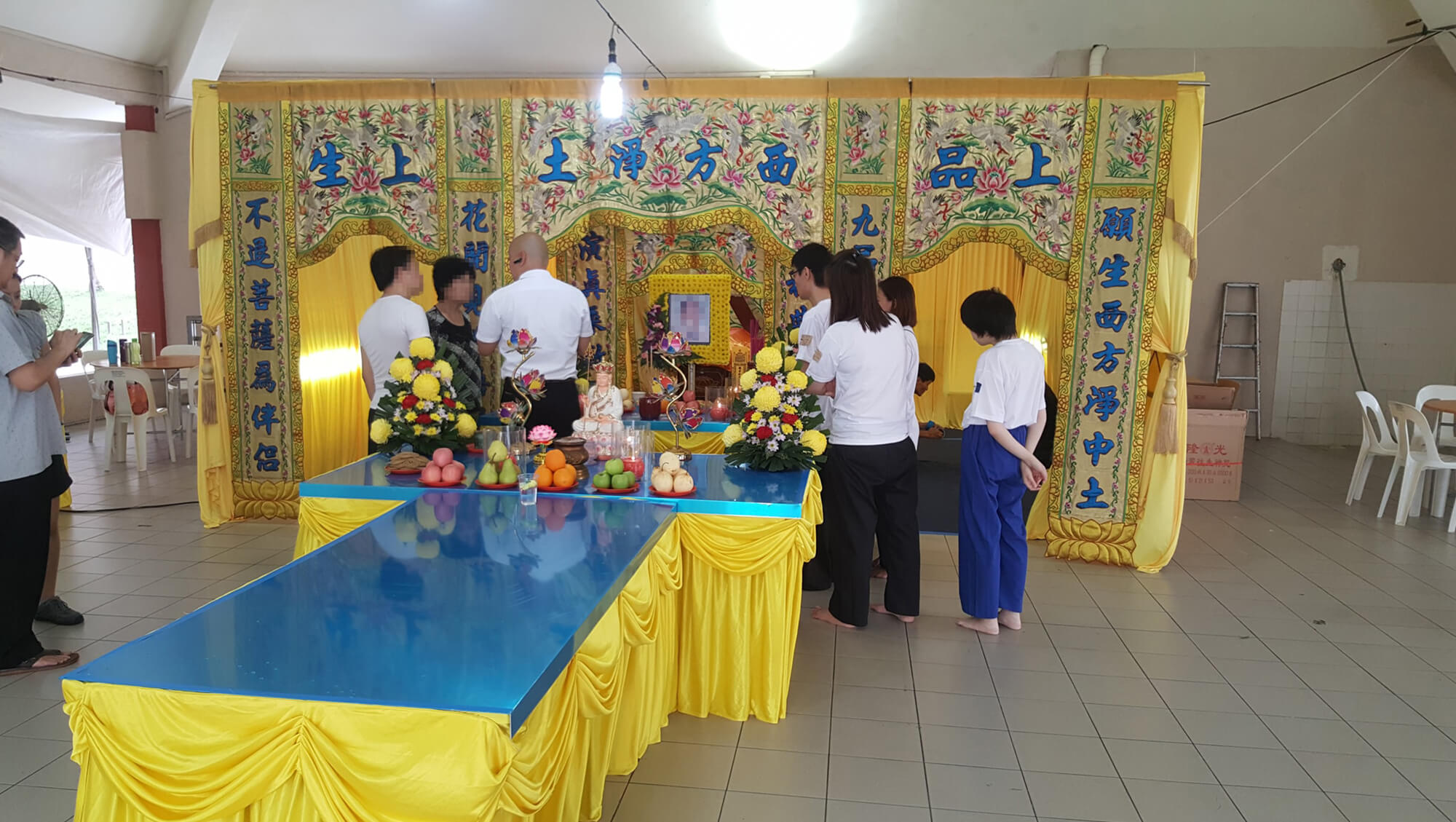 Wake Setup with Banners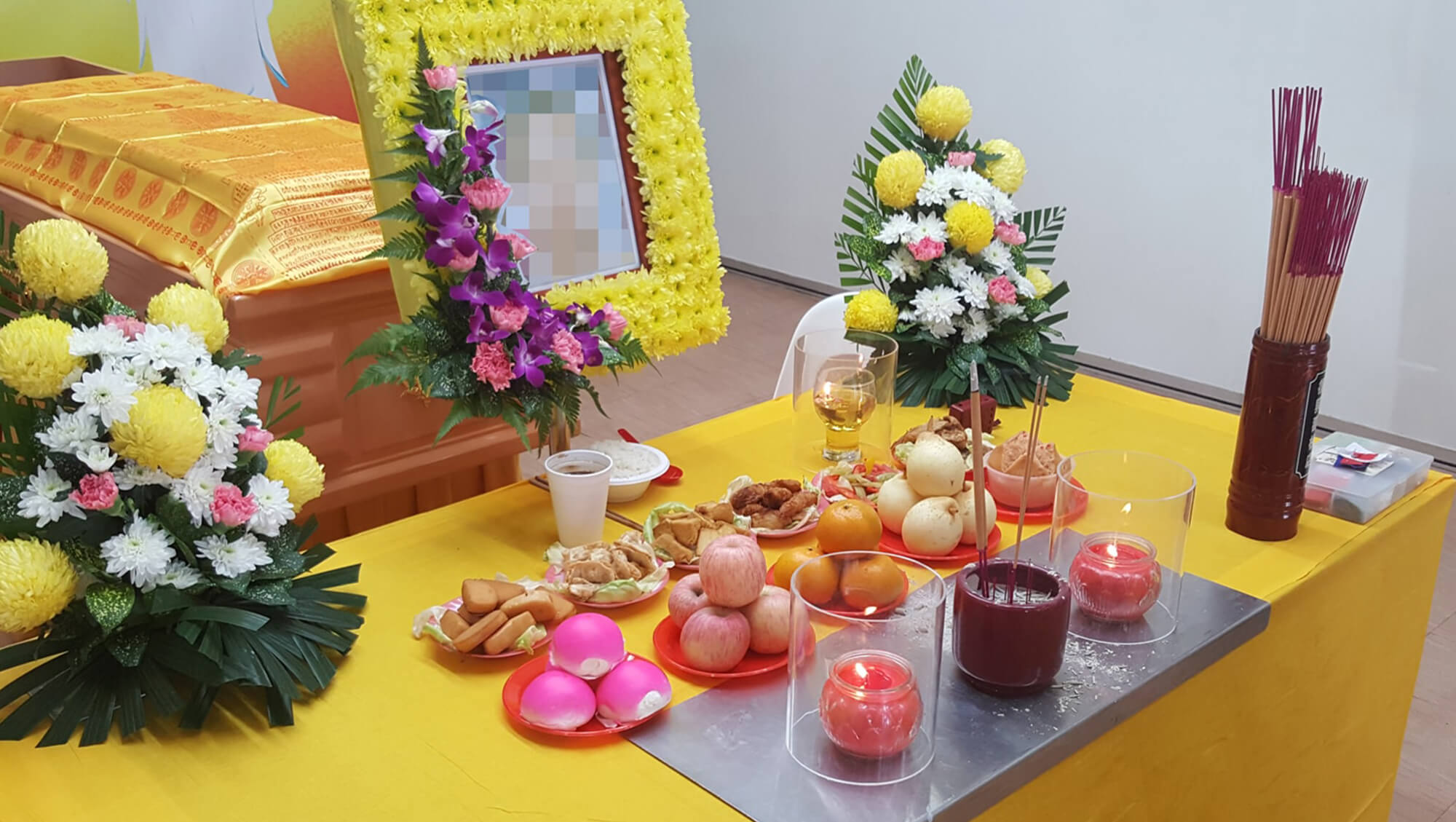 Memorial Altar Setup
Casket with Afterlife Blanket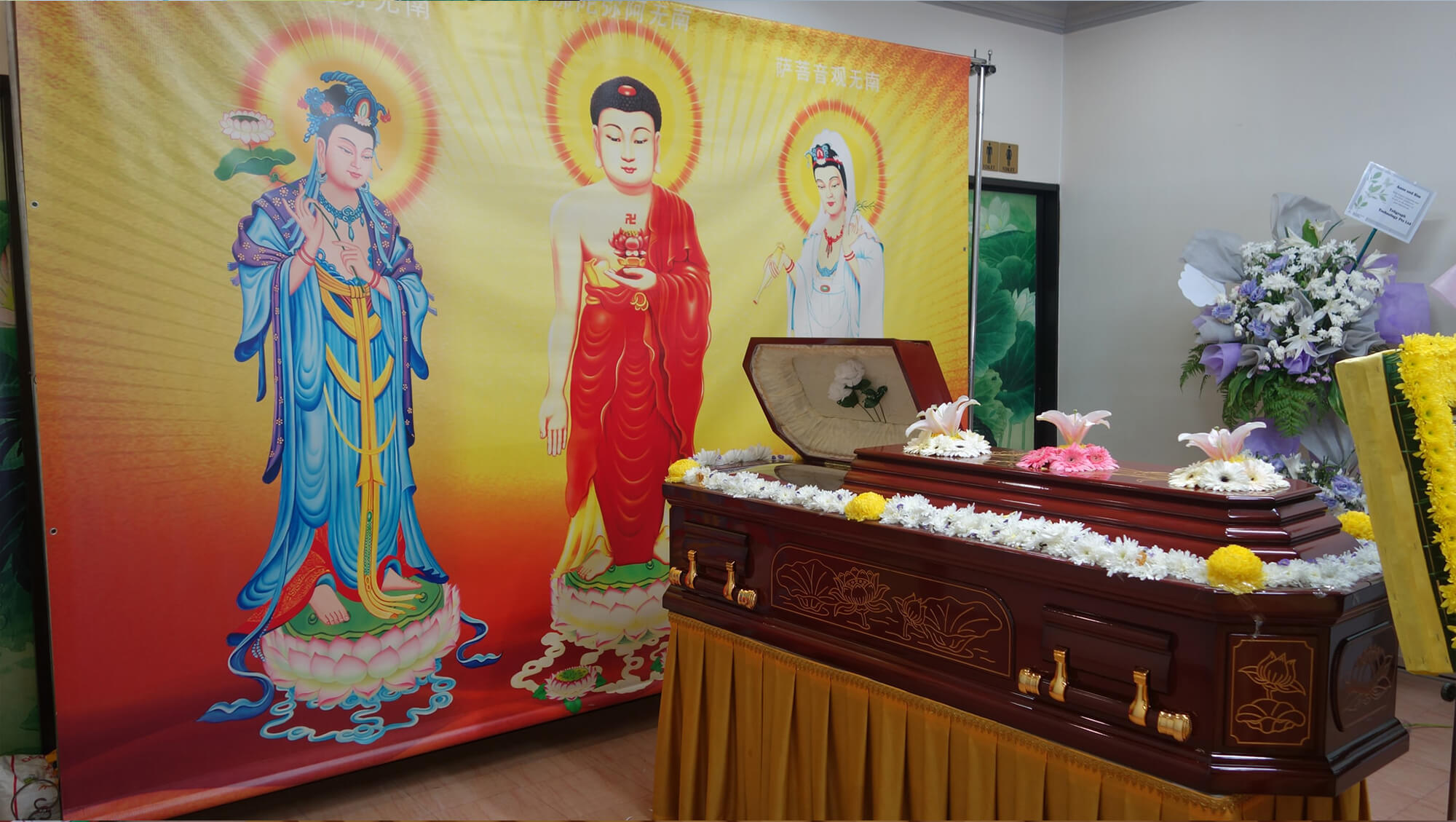 Casket and Buddhist Themed Backdrop
Buddha Altar Setup
Frequently Asked Questions
The cost of Buddhist funeral packages in Singapore may vary. At Hock Hin, for instance, holding a Buddhist funeral in Singapore  start at $5,288. The overall price depends on factors such as the duration of the service and any additional requests made by the family.
At Hock Hin, arranging a Buddhist funeral is a straightforward process. Our team ensures that every step adheres to Buddhist customs. We provide professional assistance in organizing a heartfelt and dignified farewell for your beloved, including venue selection, casket choice, prayer arrangements, and ritual coordination.
The family of the deceased will have to make a number of decisions, including:
The place and time of the wake for the deceased
The deceased's attire
Burial or cremation
(Optional) Obituary
We know that not everyone is acquainted with the funeral procedure. You can rely on our funeral director to help the family members with the preparations for the wake and memorial service.
Note that as size of families and number of visitors in a funeral vary greatly, items such as fridge and drinks, mobile toilet, incense and joss paper are provided where needed. These items are not included in the price of the funeral packages. We charge the consumption of items during the funeral by quantity used rather than in bulk so as to prevent oversupplying and wastage of resources.