"Verily, verily, I say unto you, He that believeth on me hath everlasting life." – John 6:47
Our experience in funerals do not stop at buddhist and taoist funerals. Our staff are also capable and knowledgeable with regards to Christian funerals. We have designed this package to allow you to have a freedom of choice when it comes to the location of the wake. If you need any advice, or a peace of mind during this difficult times, we are just a call away.
From $4000
(3 Days)
Package Details
Immediate response upon contact
– Funeral director will be present to discuss details of funeral
– Staff will be present with equipment to transport loved one from place of death to embalming center
Embalming and Makeup Services
– Your loved one will be embalmed and bathed in our care.
– Professionals will ensure proper makeup and dressing of your loved one.
Provision of Casket Items
– A furnished half glass coffin will be provided
– A name plate bearing the name of the deceased, birthday and date of passing
– A cross on the coffin
Logistics For the Wake
– Prayer books provided on request
– Floral Arrangements
- Floral photo frame setup for loved one's photo
- Table top floral arrangement for memorial altar
– Coloured paper for writing of well wishes to the dearly departed
– Name plate bearing the name of the dearly departed on memorial table
Services provided on Funeral Day
– Glass Hearse for transportation of loved one to cremation/burial site
– Cutting of Flowers from condolence wreaths(if any) for family and guests to place on/in coffin.
– Pallbearers will be present to guide family and guests through the funeral rites
– 45 seater coach to ferry guests for the following trips:
- From location of wake to place of burial/cremation
- From place of burial/cremation back to location of wake or location desired by family
Other Services Included in Package
- Guidance of ash collection after funeral
- Assistance of booking of cremation time slot or burial plot
Choice of Wake locations
Package price includes cost of 3-day HDB Void Deck Setup

HDB Void Deck
Void Deck Memorial Hall Setup
- 3-sided tentage setup with carpet
- Choice of canvas or curtain setup
- White themed setup
- Christian/Catholic themed Backdrop
- Memorial table with decorations
Tentage Logistics
- 15 Square Tables and 10 Round Tables
- 100 Chairs
- 6 Fans to be placed around the venue
Reception Table
- Safe Box for collection of condolence donations
- Guest book to record visitation of guests
- Printed notice containing information of funeral for guests
Funeral Parlour
An alternative to void deck setups, funeral parlours offer a more comfortable venue for wakes to be held.
As every funeral parlour differ in price, services offered and size, our staff will be there to assist you in finding the most suitable parlour for your needs.
At Home
A funeral wake can also be conducted at home if there is space for the coffin and guests. This option is usually not recommended for families living in flats or condos due to the movement involved during the funeral day.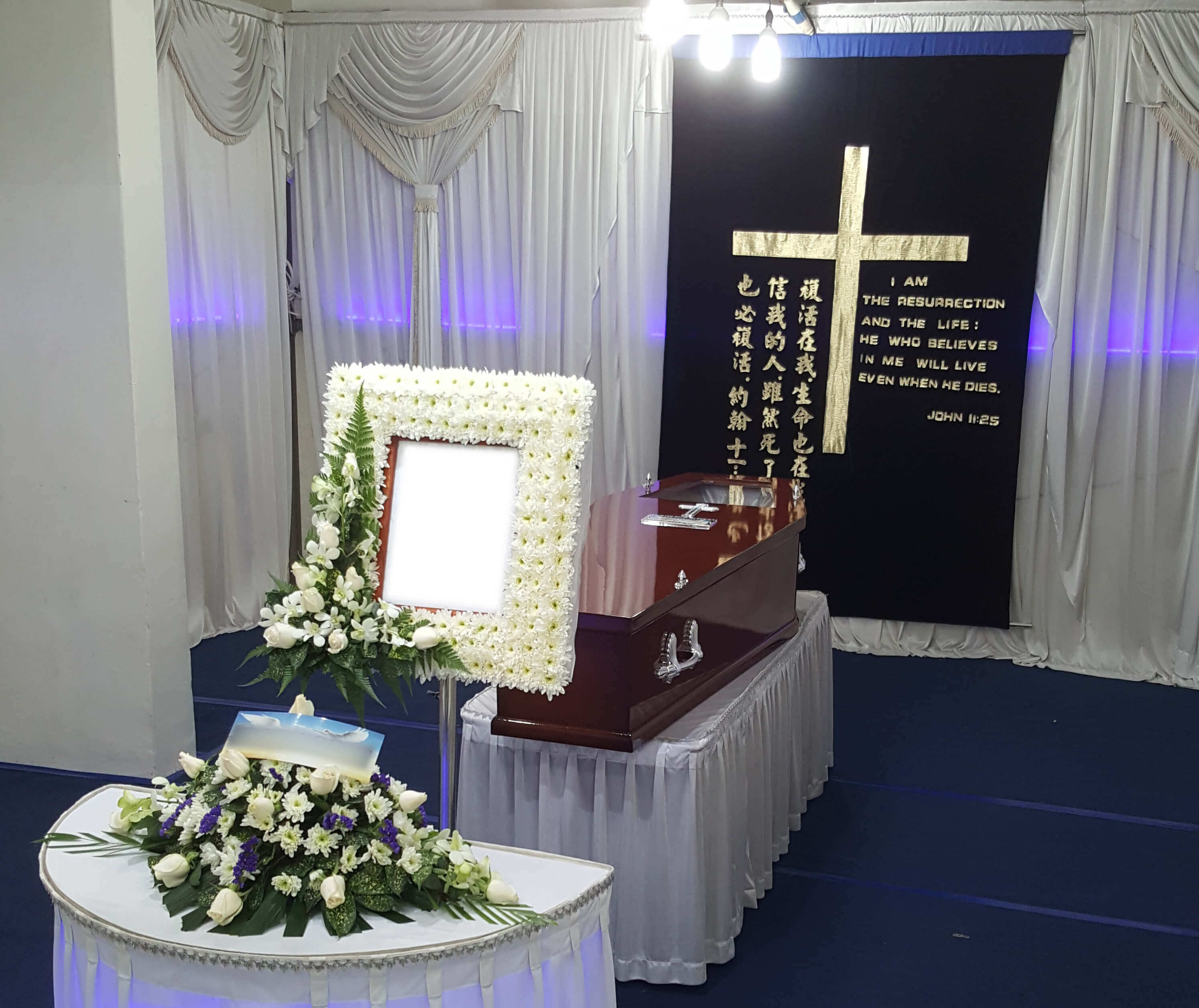 Christian Package with HDB Setup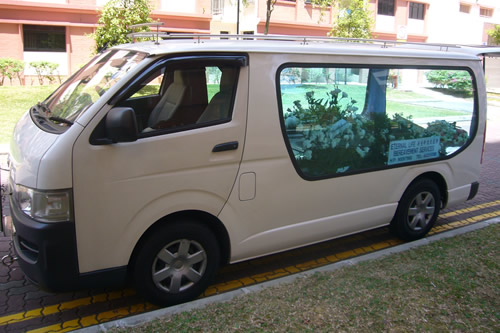 Funeral Hearse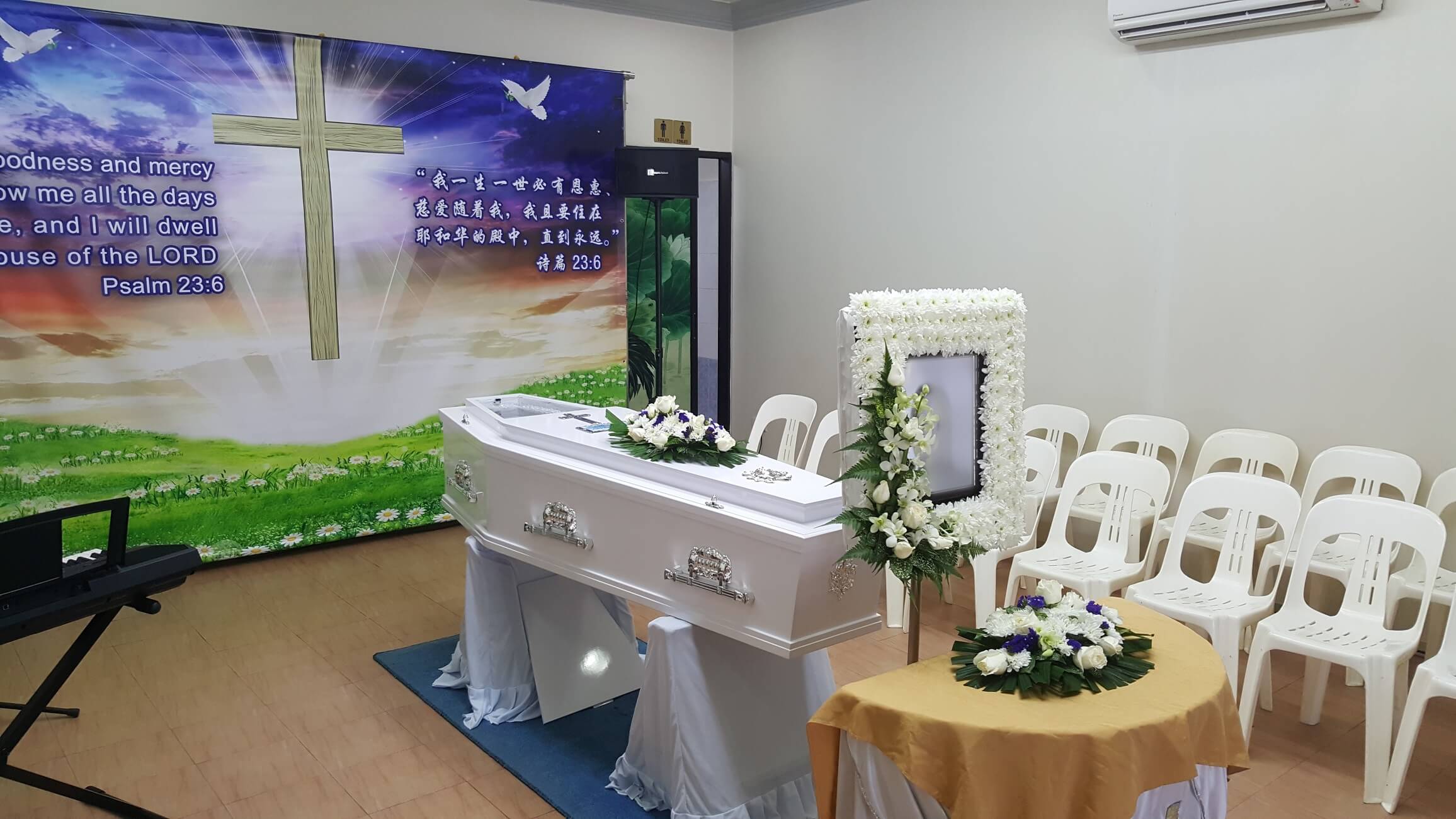 Christian Package with Funeral Parlour Setup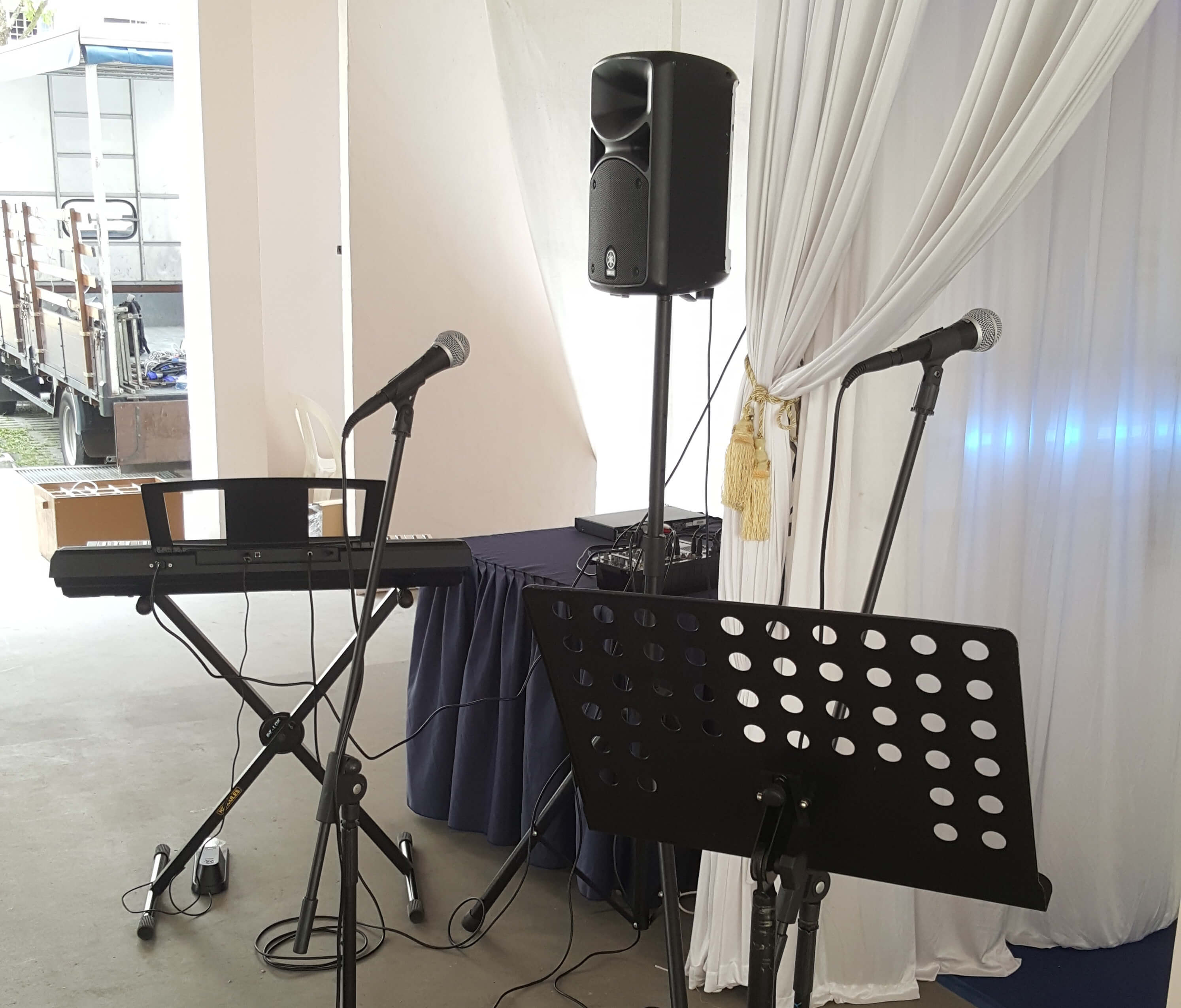 Sound System Setup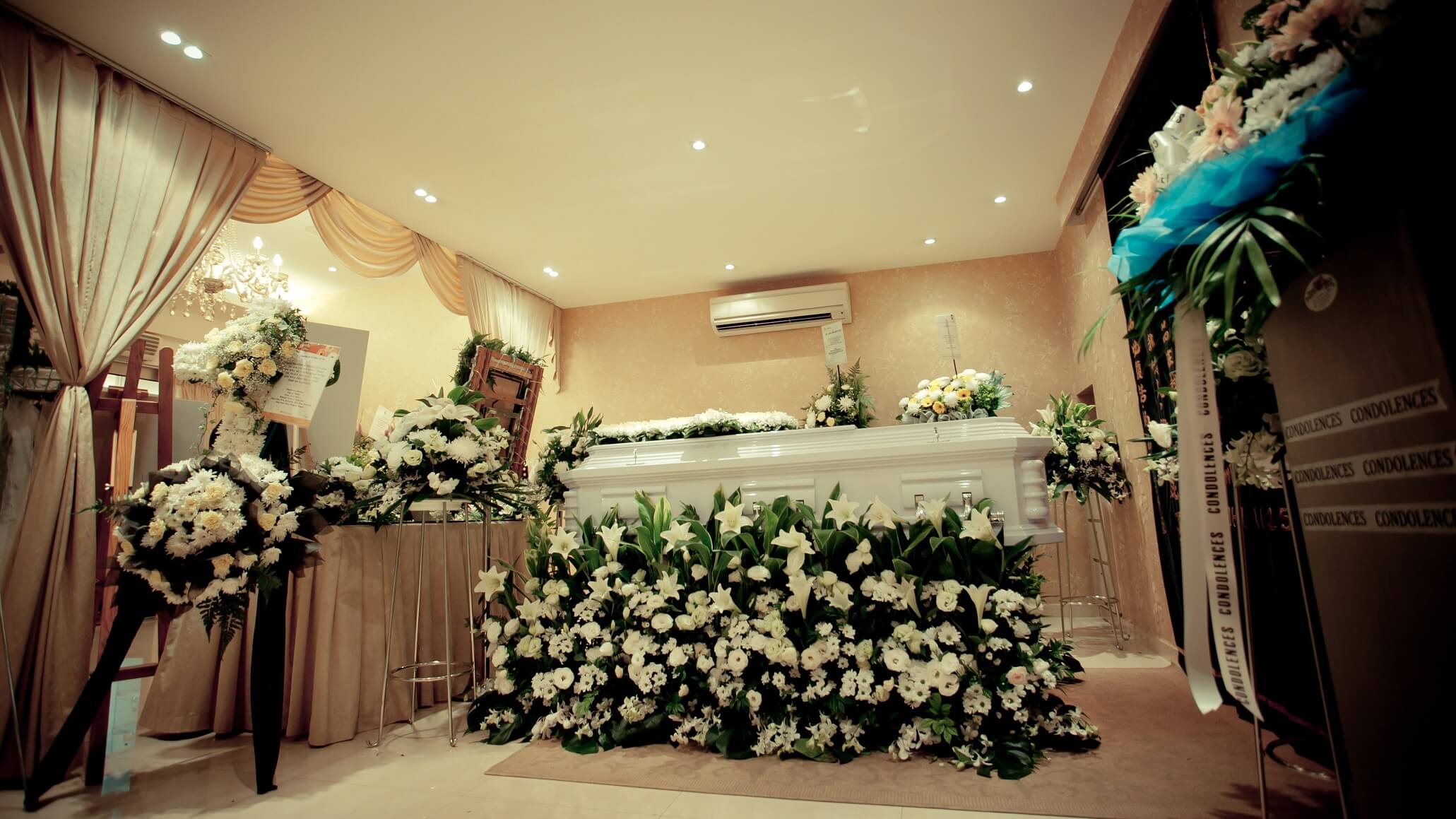 Elaborate Floral Decorations
Note that as size of families and number of visitors in a funeral vary greatly, items such as fridge and drinks, mobile toilet, incense and joss paper are provided where needed. These items are not included in the price of the funeral packages. We charge the consumption of items during the funeral by quantity used rather than in bulk so as to prevent oversupplying and wastage of resources.